Tasty Homemade Pear Chutney to make when you have a lot of fruit over and need to use it. A basic recipe guide for various fruits available.
How to.
Cut up pears and apples in smaller pieces. I left the skins on but you can peal them as well.
All ingredients were thrown in a pot and brought to boil.
Once it was constantly bubbling the pot was placed to medium and simmered for about 30 minutes.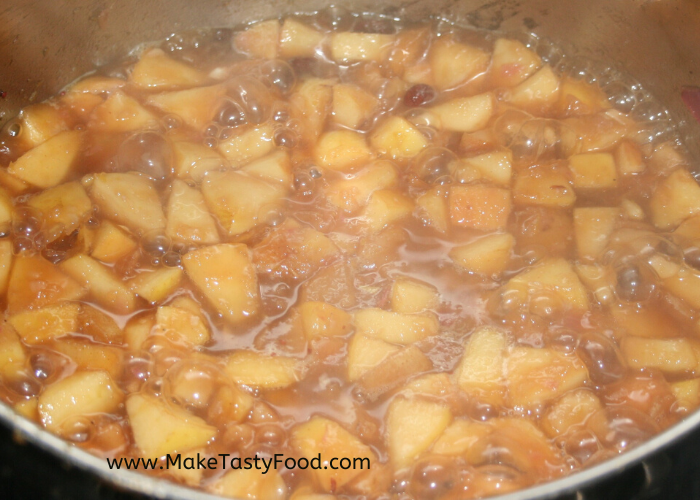 After about 30 minutes the fruit was soft and mixture not as liquidy.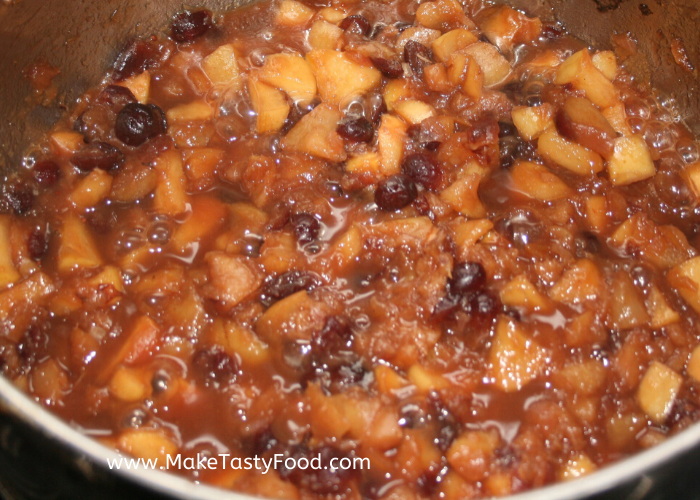 To test the mixture a spatula was pulled through the mixture. You can see that the liquid was less and didn't run back together.
That means it was cooked.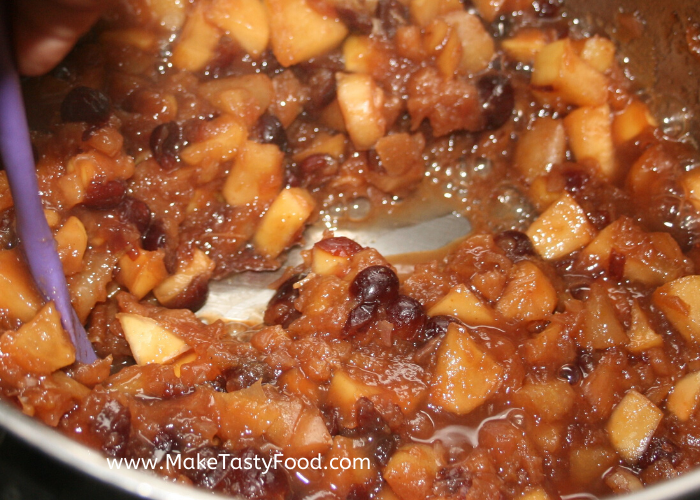 Bottling
I bottled this tasty homemade pear chutney in clean jam jars.
The mixture made two 500 g jars full.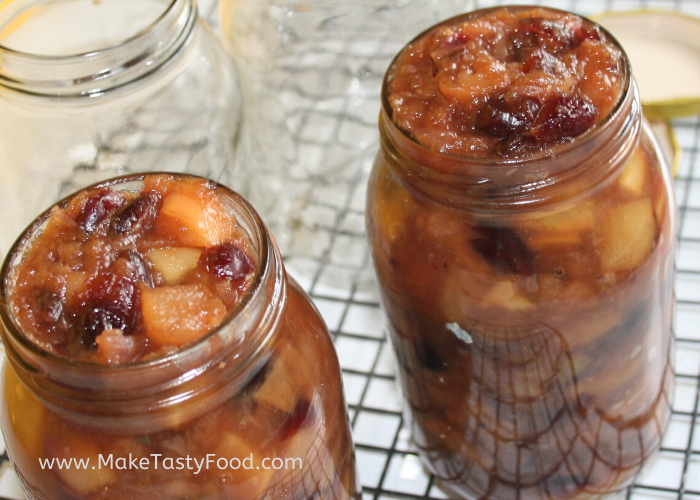 Sealed and filled warm two jars of pear chutney.
This basic Recipe was made with.
Made with apple and mostly pears cut up. Added some home picked orange rind and juice. Used cranberries for my dried fruit. My herbs I used cinnamon and also finely grated red onions.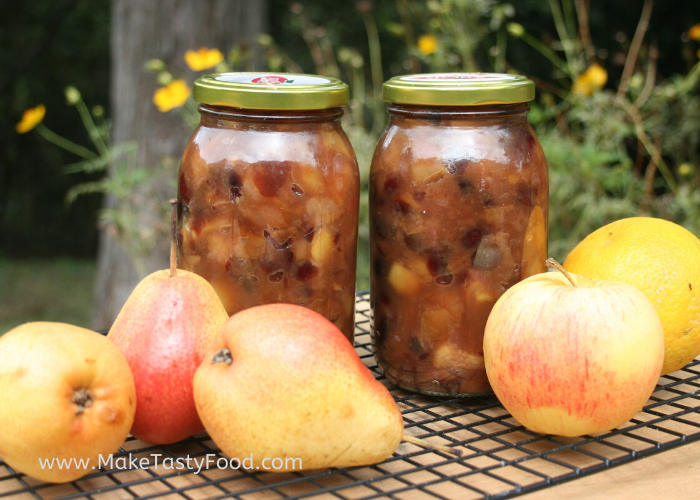 This is such an easy recipe and would try the various fruits again, once we have plenty of fruit.
In south america where we live you don't get chutney. Therefore homemade is essential for many condiments.
Tasty Homemade Pear Chutney.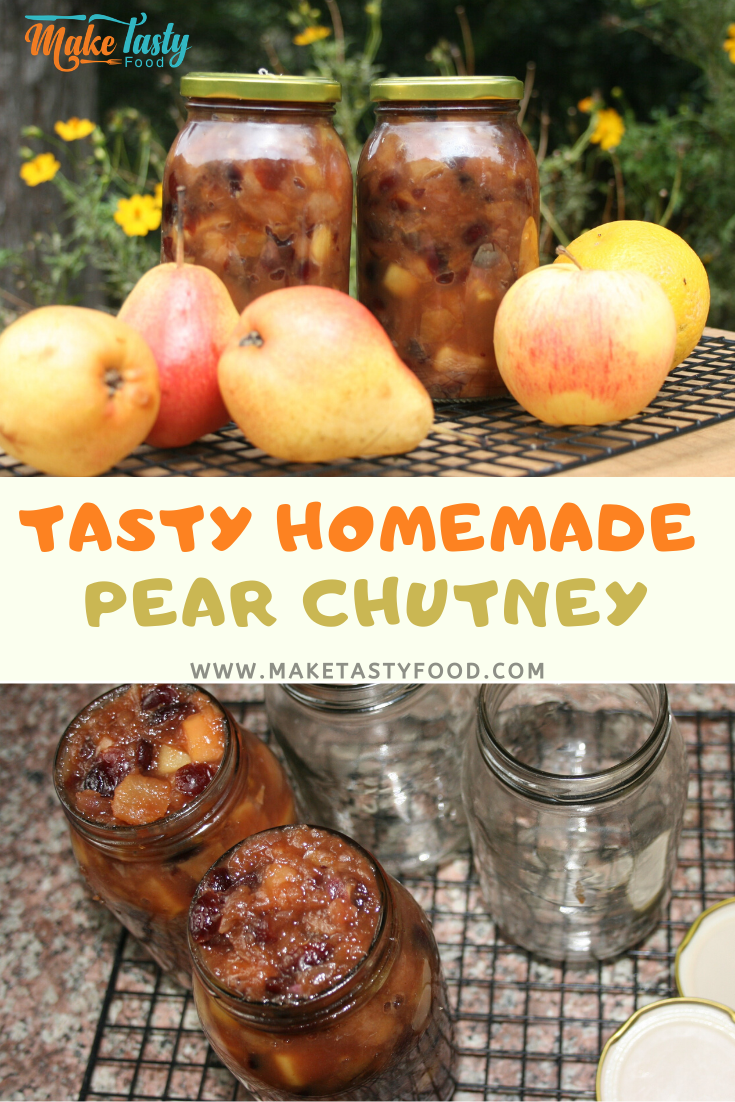 Tasty Homemade Pear Chutney
Recipe type:
Fruit Chutney
Ingredients
Master Recipe for Making Any Chutney
Ingredients.
5 cups chopped fresh fruit (pears 4 and apple 1)
1 cup dried fruit ( cranberries)
1 cup chopped onion (red onion)
1 cup vinegar
1 cup sugar ( brown pannella sugar)
1 citrus fruit, zested and juiced (orange)
Mixed herbs and spices to taste (cinnamon)
.......BELOW are the various ingredients to use for any fruit chutney you decide to use........
Fresh fruit:
You can use a single fruit or any combination of fruits, such as apples, pears, peaches, plums, mangoes, figs, blueberries, cranberries, or even rhubarb (technically a vegetable). Play around with a mix of sweet and sour if you're feeling adventurous, and always choose the freshest fruits that are in season.
Dried fruit:
Raisins are a traditional choice for chutneys, but I also like dried cranberries, orange cranberries, cherries, dates, figs, and apricots. They offer a nice counterpoint to the fresh fruit, texture- and flavor-wise, and complementary combinations (like apple-raisin, plum-cherry, rhubarb-date, or blueberry-raspberry-cranberry, for instance) work really well together.
Onion:
As far as aromatics go, onions are a must. I like to pair sweet onions (like Walla Walla or Vidalia) with tart fruits, while yellow and red onions go great with sweeter fruits. You can also add in other alliums, such as shallots or garlic.
Vinegar:
I usually prefer apple cider vinegar for its warm, mellow acidity, but any vinegar will work. Malt vinegar, with its mild, somewhat lemony, and slightly sweet flavor, is a traditional favorite for chutneys, but white vinegar and wine vinegar can be used as well. You can even add a splash of balsamic vinegar at the end of cooking for a deeper layer of flavor.
Sugar:
Sweetness is an important component of chutney to balance the sharpness of the vinegar. You can never go wrong with white sugar, but brown sugar, turbinado sugar, and coconut sugar are also good options.
Citrus:
Using the zest and juice of an orange or lemon adds brightness and tang to the overall flavor
Herbs and spices:
While they aren't necessary, the right seasonings can truly elevate a chutney. Some of my favorite combinations include fresh mint with a medley of summer berries, cracked black pepper with a strawberry chutney, crystallized ginger with a stone fruit chutney, or cinnamon, clove, nutmeg, and allspice (pretty much "pumpkin pie spice") with an apple-pear chutney.
Instructions
Firstly, chop up all fruit in small pieces, grate the onion. Zest the orange and juice it.
In a large, wide pot, combine all of the ingredients over high heat and bring to a boil.
Once the mixture starts bubbling consistently, reduce the heat to medium.
Simmer until the fruits are tender and the mixture is thickened.
for about 30 minutes, stirring occasionally.
How to tell when your chutney is done? Scrape a spoon across the bottom of the pot;
if the channel it leaves behind doesn't immediately fill in with liquid, the chutney is ready.
Ladle the chutney into jars, wipe the rims clean with a towel, and seal with lids. Let the jars cool to room temperature before storing in the fridge. The chutney will keep for up to one month, refrigerated.
Alternatively, you can process the jars in a boiling water bath for 10 minutes, adjusting the time for altitude as needed. Properly sealed and unopened jars are shelf stable for at least one year. (Please note that the white lids shown in these pictures are not suitable for water bath canning. Always use proper canning rings and lids.)
I had a few pears getting ripe to quickly and apples.  I found this amazing basic chutney recipe for various fruits and have cooked up some pear and apple chutney. It came out amazingly.
Recipe from Garden Betty.
Click here for other bottled recipes.
Here are some pot sets and utensils and canning jars one would need.