Thirst Quenching Ginger Beer for those very hot summer days. Homemade ginger beer with healthy ginger and lemon juice. Ginger is healthy and thirst quenching.
Glasses of iced ginger beer with mint leaves, so refreshing and healthy.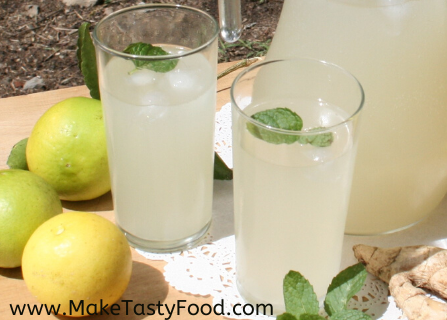 A cold pitcher of homemade ginger beer filled with ice and a leaf of mint.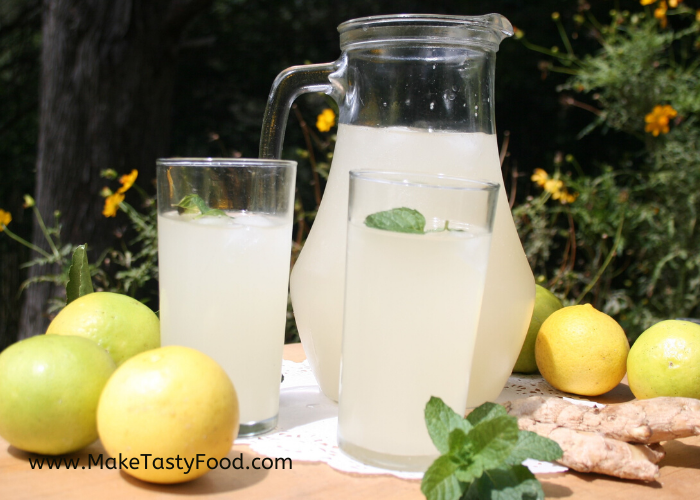 Fresh lemons squeezed for the juice and organic ginger scraped and all brought to a boil, to draw out the ginger in the ingredients.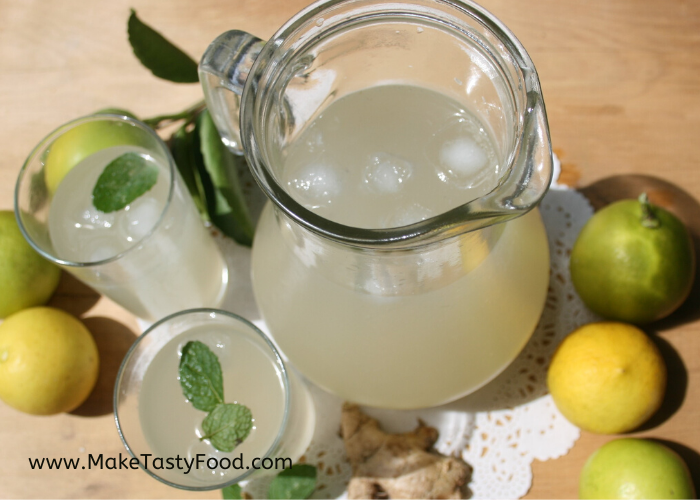 Thirst Quenching Ginger Beer.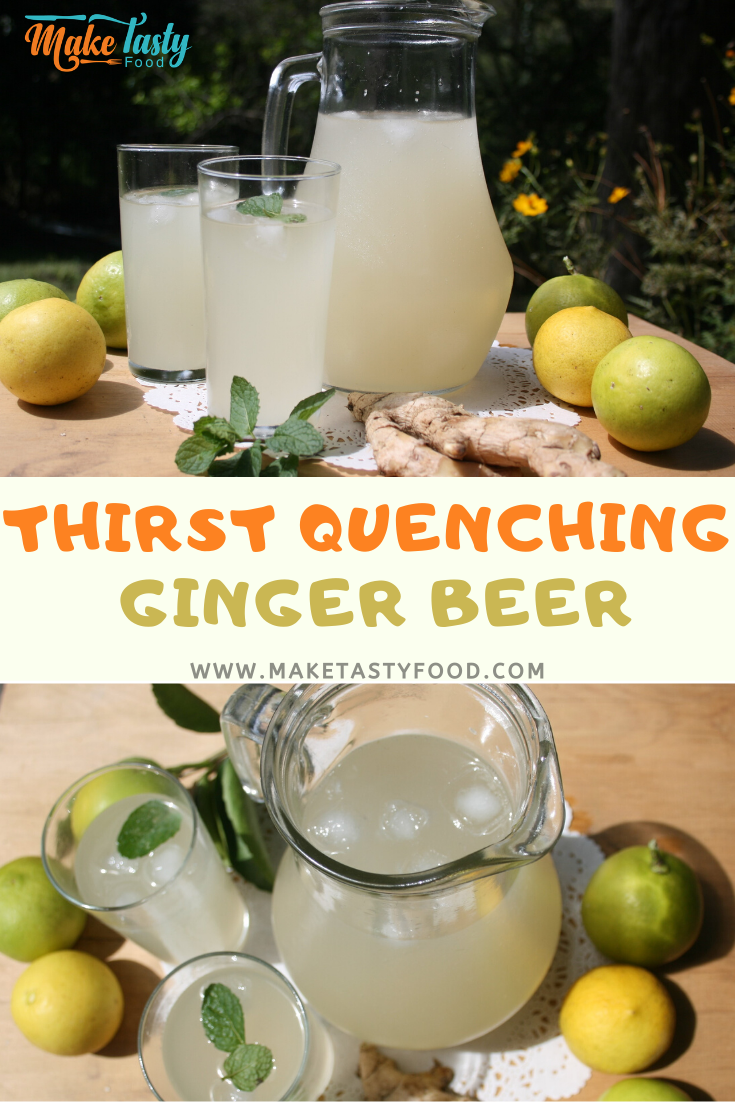 Thirst Quenching Ginger Beer
Makes 2 Liters of ginger beer.
Recipe type:
homemade drinks
Ingredients
Ginger syrup
1 Cup of white granulated sugar
½ Cup of water
2 Tbsp grated fresh ginger
⅛ tsp of dry yeast or brewers yeast
3 Tbsp of lemon juice (freshly squeezed)
7 Cups of filtered water
Instructions
Peel a large piece of ginger root with a teaspoon, as its easier this way. Then grate it with the fine side of the grater. Place the ginger, sugar and water in a saucepan over a medium heat and stir till the sugar is dissolved. Switch off the heat and allow to steep for an hour.
Strain the mixture and discard the ginger solids and allow it to cool.
This is the ginger syrup.
With a funnel in the 2 lt bottle sprinkle the yeast in, followed by the lemon juice and the water.
You can make more bottles than this, just multiply the ingredients and follow the recipe.
Place the lid on the bottle and shake the liquid until the yeast has dissolved.
Store in a cool place for 2 - 3 days or until fizz is achieved.
Daily you must release the gas slightly and then tighten the lid again. (otherwise the bottle will blow up with the gas,and make a sticky mess)
Once the fizz has been achieved store in the refrigerator to prevent the ginger beer from fermenting quicker and further.
Its best to treat the ginger beer beverage as a perishable product and consume it withing 1 - 2 weeks.
Please note that the ginger beer will produce gas and be careful to release it often even in the fridge, as it ferments slower than been out on the shelf.
Also note that as the beverage ferments, sediment will settle at the bottom of the bottle, you may strain the mixture.
Serve over ice.
My Daughter makes this Recipe and she obtained it from https://toriavey.com/toris-kitchen/the-old-fashioned-way-homemade-ginger-beer/
Most thirst quenching ginger beer one can have to drink.
Place ice and some mint leaves in the glass.
Here are some products to choose from.